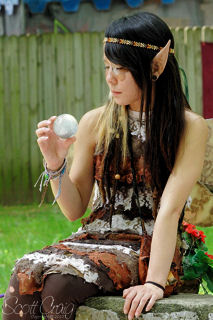 The Tennessee Renaissance Festival is a celebration of Old England held each year during the month of May. The event is held on a farm near Triune, TN and is intended to simulate the 16th century English village of Covington Glen. The 2010 event was the 25th anniversary of the event, and also the first time that I attended. It wasn't the last time though, I have been several times each year since!

Visitors can enjoy several different shows and concerts that are held at various times during the day, or they can partake of numerous concessions that are available. They can also just wander around and enjoy the sights much as I did.

Needless to say, the most interesting sight at the festival are the people themselves. An enormous amount of effort has gone into the costumes, and most of those I talked with spoke with an English accent, so they go all out to keep things as realistic as possible.

As always when I photograph events such as this, if any of the participants would like to have copies of any photographs I have taken of them all they have to do is Let Me Know. There will be no charge for the photographs, however they will have to verify to me that they are the subject of the photograph.
---
2015 Tennessee Renaissance Festival

May 9, 2015
2014 Tennessee Renaissance Festival

May 3, 2014
2013 Tennessee Renaissance Festival

May 25, 2013
May 5, 2013
2012 Tennessee Renaissance Festival

May 6, 2012
May 19, 2012

Here is a good example of why I get to events like these early! The first photo shows people buying tickets. The line on the far left is the "Will Call" line and it's about as long as all the others. The second photo shows the END of the ticket line! Look way up near the top of the photograph and you can see the last people in the line. It also shows a portion of one side of the parking lot. The lot extends about 1/4 mile to the right and all of the front rows are completely full. The left side of the road also contains parking and it is just about as large as the lot on the right side of the road. When I got there at about 9:45 (the ticket gates open at 9:30 and the event gate at 10:00) I think there were three people ahead of me. I parked on the second row of vehicles and probably had to walk a couple of hundred feet to get in. The two shots below were taken at 11:15!

May 26, 2012
2011 Tennessee Renaissance Festival
2010 Tennessee Renaissance Festival