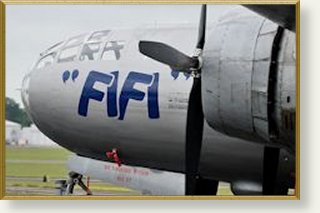 "Fifi" is a Boeing B-29A Superfortress, serial number 44-62070. She was constructed in 1945 and is presently owned by the Commemorative Air Force in Addison, TX. After an extensive engine refit between 2008 and 2010 Fifi is once again prowling the United States as the only example of a flying B-29 left anywhere in the world today.

This was a very unique experience for an airplane lover like me, and one that I had to take advantage of. Her consorts for this flight were a P-51 Mustang named "Gunfighter", a C-45 Expediter named "Bucket of Bolts", and an unnamed but immaculate Stearman PT-17 . My thanks to the CAF for providing this unique experience. It is very much appreciated!

Edit – May 26. 2017 – Fifi made another appearance at Smyrna this weekend and I went by today to see her again. I have to revise one statement that I made after seeing the airplane in 2013. I stated in the first paragraph above that Fifi is the only surviving B-29 in flying condition anywhere in the world. According to a placard they had on display Fifi is one of TWO surviving B-29's in flying condition. The placard did not say where the other one is, but I was wrong in saying that Fifi was the one and only.
---
May 26, 2017

Not a lot of new photographs this time, I think I covered everything I wanted to the last time she was here ;)

---

July 5, 2013

Cloudy and drizzling rain today but some things just have to be done. Yesterday's heavy rain stopped me from seeing this lady but today's drizzle will not!




---




---




---




---




---

July 7, 2013

Rain again on Saturday but today started out clear, then turned overcast, and then started clearing again. I went to Smyrna again to see if the airplanes were going up and was told that if the overcast broke up as it was supposed to that they would. Sure enough about 10:00 the clouds began to move out and were replaced by mostly clear skies and we were rewarded with a unique sight that most of us will never see again: The last B-29 flying in the world took to the air where she belongs.




---




---




---