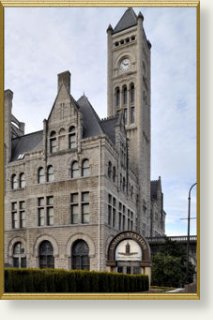 While the bulk of the photographs on this web site were taken in close proximity to Nashville the photographs on this page are all taken in downtown Nashville.

From Wikipedia:

Nashville was founded by James Robertson, John Donelson, and a party of Wataugans in 1779, and was originally called Fort Nashborough, after the American Revolutionary War hero Francis Nash. Nashville quickly grew because of its strategic location, accessibility as a river port, and its later status as a major railroad center. In 1806, Nashville was incorporated as a city and became the county seat of Davidson County, Tennessee. In 1843, the city was named the permanent capital of the state of Tennessee.

I will add additional photographs to this page from time to time but the honest truth is that I just don't get downtown very often any longer. I live and work just outside Nashville and don't get into the true "Town" except for special occasions or to grab a few photos.
---
Downtown Nashville – Lower Broad Area ….
Lower Broadway, as it is known, is the eastern end of Broadway Street where it ends at the Cumberland Rider. This area used to be a really bad part of town infested with prostitutes, panhandlers, and other unsavory people. Over the past couple of decades efforts have really been made to clean it up, and they have really gone in the right direction. Now it is mostly restaurants, night clubs, souvenir stores, music, lights, and people. A strong police presence has eliminated a lot of the people problems so it is an interesting area to visit now.
Union Station ….
From Wikipedia:
Nashville's Union Station is a former railroad terminal opened in 1900 to serve the passenger operations of the eight railroads then providing passenger service to Nashville, Tennessee. Built just to the west of the downtown area, its design placed it to the east and above a natural railroad cut through which most of the tracks of the area were routed which was spanned by a viaduct adjacent to the station. The station was also served by streetcars prior to their discontinuance in Nashville in 1941.
Marathon Motor Works ….
Marathon Motor Works built motorcars in Nashville from 1911 to 1914. Their old facility on Clinton Street still exists and presently houses several small businesses. The stone over the door in the first photo on the second row shows the year of construction as being 1881, and for a structure that old it is in rather decent shape. I have frequently wanted to stop and take a look at the facility and finally got around to it. I'd love to see the inside of it some time, so maybe I'll see what I can do about that!
Miscellaneous ….
And, of course, a few miscellaneous shots from around Nashville …