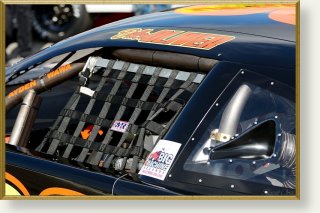 The All American 400, held at the Nashville Fairgounds Speedway was for a number of years the highlight of my fall. 400 laps of noisy, smelly, fast, frantic stock car racing held under crisp, clear fall skies! What's not to like? But times change, as do political climates, and for a number of years it apparently was not held. It's back again and I'm glad to see it!
2014 ALL AMERICAN 400 – NOVEMBER 1, 2014


A few from the pits before the race began …..
Wait … Did that last one read "Sterling Marlin" on the roof? Yep, it did. Both he and Darrell Waltrip were there (I also heard that Joe Nemecheck was there however I didn't see him). Sterling Marlin was the Track Champion in 1980, 1981, and 1982 while Darrell Waltrip was the Track Champion in 1970 and 1973 so both of them have lots of laps around this little track. Sterling Marlin's father Coo Coo Marlin was the Track Champion in 1959, 1963, 1965 and 1966. In addition, the late Bobby Hamilton, Sr. was the Track Champion in 1987 and 1988 as was Jeff Green in 1990. The Nashville Fairgrounds Speedway has a long history of giving numerous future NASCAR stars their beginning.

---

A few from the "Last Chance" race. The top 6 finishers transferred to the All American 400.

---

And some from the main event: The 2014 All American 400

---

Congratulations to John Hunter Nemecheck for winning the race, and to Willie Allen (2nd place), Chuck Barnes (3rd place), Anderson Bowen (4th place), and T.J. Reid (5th place). And my thanks to ALL of the drivers and promoters for giving me something to enjoy on a Saturday afternoon.