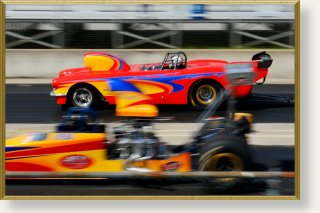 Music City Raceway is another nostalgic trip back in time for me. The track celebrated its 50th Anniversary in 2008, and back in the early days it was known as Union Hill Dragstrip, or just "The Hill". I went there several times when I was young so going again back brings back a lot of happy memories.
---




Motorcycle Racing – September 6, 2015

I went to Music City Raceway today to enjoy the 20th annual Pinkey's motorcycle drag race. It was good, but I'm kind of partial to fuel or alcohol cars at a drag race. Don't get me wrong, I love bikes and have two of them, but prefer to watch them race on a road course.

Regardless, lots of fabulous machinery on a hot late summer day, and I had a great time.

---




NHRA Racing – August 22, 2015

Funny cars! Four of them from the Great Lakes Nostalgia Funny Car Circuit paid a visit to Tennessee today. Magnificent machines from an earlier era of drag racing.

Blue Thunder: A 1969 Chevrolet Z-28 funny car owned and driven by Monty Stotz from Edgerton, OH
Detroit Thunder: A 1955 Ford Thunderbird funny car owned and driven by Bill Hallett from Clarkston, MI
Mopar Crazy: A 1971 Dodge Challenger funny car owned by John Troxel and driven by Chris Schneider from Holts Summit, MO
Solid Rock: A 1971 Ford Mustang funny car owned and driven by Rocky Ausec from Rockdale, IL

Mopar Crazy was originally campaigned as the Funny Honey by Della Woods and her brother Tony during 1970 and 1971, I was told that the Mopar Crazy of today is virtually untouched from that time. The only difference being primarily the name on the side of the car.

Mopar Crazy is also rather unique in that the "Crew Chief Emeritus" is Roland Leong of the "Hawaiian" series of top fuel dragsters and funny cars, a name that anyone who has been around drag racing for a while is sure to remember and respect.

---

Falling rain is one of the more depressing things to see at a drag race, but it does happen. During a Tennessee summer pop-up rain is pretty common, and today was no exception. Just enough rain off and on for an hour to keep the track wet.

---

The rain delay pushed everything back about an hour. The funny cars were scheduled to make their first pass about 7:00 and their second pass about 9:00. That got pushed up an hour to 8:00 and 10:00. I don't see well when driving at night so I didn't stick around. I did get to see Mopar Crazy make a test pass though!

---




NHRA Racing – July 25, 2015

I headed for Music City Raceway this afternoon since they have jet dragsters scheduled. It was hot until the sun went down, typical July afternoon in Tennessee humid hot, but well worth the discomfort. Lots of speed and noise and smoke and energy, just the way I love to spend a Saturday afternoon and evening.

The drones were flying this afterrnoon compliments of Vivid Aerial.
A pair of jet dragsters were making runs today. They didn't make their first run until after dark which is fabulous for the visual aspect of the flames they blast out the exhaust but not so great for a photographer. The brilliant light of the flames against the darkness is beautiful to see but it also exceeds the dynamic range of a camera so I either get overexposed flames or underexposed cars. I sort of split the middle for the photographs below.

"Black Ice", piloted by Tammy Gatlin, is in the far lane and "Cross Fire", piloted by Dennis Roslansky, is in the near lane. The first photograph below is Black Ice blasting fire and smoke while the second shot is of Black Ice illuminated by the flames from Cross Fire. Black Ice flamed out after that and they had to tow it back to the pits for repairs. Cross Fire made its run and it was amazing to see and hear! As it went past right in front of me it also gave a new meaning to the phrase "Summer Heat"!

They were scheduled to make two more runs but I was hot and tired and hungry so I headed for home after the first run.

---




NHRA Racing – June 20, 2015

I stopped at Music City Raceway coming back from the National Hot Rod Reunion at Beech Bend Raceway. I wanted to try sitting on the opposite side of the track to see if the light on the cars was better. While the light was definitely better there is a fence on that side that gives me fits. I don't like to shoot down on the cars but from that side it was either shoot down or get the fence in the shot, and I didn't like either option.

---




NHRA Racing – May 30, 2015

Another weekend, another trip to Music City Raceway. This is becoming habit-forming, but I suppose there could be worse habits to have.

Off-and-on rain showers were the story today so I didn't really plan on going to the race track. I cut my grass earlier and about an hour later the bottom fell out. Seemed like a good time for a nap so that's what I did. When I woke up the sun was shining again so I loaded up my camera and headed for the track. It was overcast when I got there, then the sun came out. Then it started sprinkling rain which delayed the races. Then, after a few runs, someone dumped oil on the track that took about 30 minutes to clean up and groom the track. After the first pair went down the track after the cleanup it appeared that they didn't get it as clean as they thought so they started grooming the track again. While I sat there it started sprinkling rain again so that was enough for me. As I left the gate I noticed that to the west there was a horrendous storm cell and to the east a gorgeous rainbow and clear skies. Quite a contrast in weather. Regardless, I got a few decent photographs so I went home happy ;)

---




NHRA Racing – May 23, 2015

There's nothing better on a holiday weekend than watching racing! Especially when it is watched in person. I just never seem to tire of it.

---




NHRA and Super Pro Racing – April 25, 2015

Music City Raceway had a Super Pro race that I wanted to go to today but the weather forecasters had a different idea. For the past few days the chance of rain has been increasing for today, and this morning there was a warning of severe thunderstorms, large hail, and possible tornados. Well, they were wrong. I checked the radar when I got up and the only rain in the state of Tennessee was in the southeast corner. I looked further and there was nothing behind it either. So, confused, I went and got some breakfast, went for a 6 mile walk, and then looked at the radar again. Still nothing and the sun is shining! The heck with it, I'm going to the racetrack! Glad I did to since it was a lot of fun!

---




NHRA Racing – April 11, 2015

Once again a gorgeous spring day at the drag strip! Brilliant blue skies and a bit warmer than a couple of weeks ago when I was there.

Once again I'm not real thrilled with my photographs. I did try the other side of the track to give me better lighting, but on that side there is a fence in the way. If I get up high enough in the stands so that the fence is out of the way I'm shooting down on the cars and I don't like that perspective. Oh well, guess I'll just have to keep going back until I get it right! Hey, it's as good an excuse as any ;)

---




NHRA Racing – March 28, 2015

A beautiful spring day albeit a bit on the cool side. A cold front blew through a couple of days ago and dropped the temperatures from the mid 70's to the mid 40's and left some wind behind to make it feel even cooler. Despite the chill in the air the sky was brilliant blue and the cars were on the track. What more does one need?

I'm not real pleased with my photographs. I should have gotten on the other side of the track so that the sun was on the proper side but the side I was on gave me a better view. We learn from our mistakes and next time I'll remember the lesson.

As can be seen below there was quite an eclectic mix of cars running. Everything from pure stock to true dragsters to junior dragsters to motorcycles. It was a lot of fun and I'll definitely be back again.