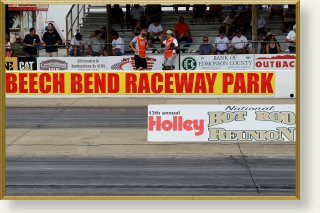 I had never been to a National Hot Rod Reunion. At least until this weekend! The sponsoring organization is the NHRA Motorsports Museum and the official name of the event was the "13th Annual Holley National Hot Rod Reunion presented by AAA Insurance". A lot of name but then it was most assuredly a lot of event!

I honestly have no idea whatsoever how many cars were there, but the count was easily in the hundreds. Race cars of every class from stock to top fuel. Show cars from A to Z and everything imaginable in between. I spent two days there and I know for certain that I didn't see everything that there was to see.

The event was held at Beech Bend Park in Bowling Green, KY. and the only "Damper" to the event were the remnants of Tropical Storm Bill that blew up from the Gulf of Mexico during the preceding week. We have had hardly a drop of rain for three weeks and this stupid storm picks this particular weekend to blow in. Friday wasn't bad, off-and-on clouds, hot and steamy, but Bill made his ending presence known on Friday night. Saturday morning dawned with leaden skies and drizzling rain. For most of the morning it rained and then stopped and then rained and then stopped and then rained and then stopped. I watched the track crews spend several hours grooming the track only to have it get wet again. So they started from scratch again and groomed the track again. About the time they had it in good shape again the rain came back. That was enough for me. It was noon and I had been there since about 8:30 without a single car on the track, so I headed for Nashville. I hope they got to run the eliminations, but I wanted to see the jet dragsters at Music City Raceway so I bailed out.

All in all a fabulous event and one that I intend to repeat. Hopefully next time the weather will cooperate a bit more though.
RANDOM SHOTS FROM AROUND THE EVENT

STATIC SHOTS

Lots of shots of static cars are below. Some are show cars while others are race cars that show up on the track later. As always with events of this type it is seldom possible to pick a place for a good photograph. I don't have control over the background (as evidenced by the porta-potty in the first photograph!), and while I do try and wait for the short periods when I can get a shot without people in it that doesn't always happen either. As usual, some are good while others are not so good. It's just a fact of life at these events.

Those who have been around drag racing for a while might recognize a few of these machines, or at least some of the names. The event was, after all, a reunion. Look closely, there are some well-known names scattered about!

Also keep in mind that this is probably only about 1% of the cars that were there. I honestly didn't see them all since I couldn't even tell where they ended. Each time I walked down an aisle filled with cars I saw a couple more in the distance that I hadn't even noticed before. It seemed to be a never-ending parade of eye candy.

---

Unlike Friday, Saturday started out cloudy, sloppy, and wet. There are few things more depressing to me than a wet race track. The NHRA Safety Safari and the track crew did a fabulous job of drying and grooming the track, and as soon as they got done it started raining again. As soon as the rain stopped they were back out there doing it all over again. About they time they finished, it started raining again. I don't know how many times they had to repeat that because that was it for me.

ON THE TRACK!

But enough race cars sitting still. Time for some that are in motion! LOTS of motion! And lots of noise! Well, I guess to some people it's noise but to me it's music. The sensation of a drag car in motion is something that has to be experienced to be understood, and I absolutely love to experience it.

---

This was the only accident that I saw. Everything started out fine and I shot a series of shots of the car headed down the track. At least at first. Notice in the econd shot that the front left wheel is over the centerline, and it was downhill from there. He impacted the wall about halfway down the track and slid down it. The third (HORRIBLE photograph) shows the car against the wall after the slide, and the last photo shows the aftermath. A beautiful machine wadded up into a bunch of bend steel.

MY FAVORITES!

So many magnificent machines to choose from, and as I said at the beginning I only saw a portion of them. Of those I did see, if I had to pick a few favorites they would have to be these below:
Susie Q – A 1957 Chevrolet Bel Air funny car. An absolutely immaculate machine owned by Sue and Steve Christophersen. A bit more about the car is available on This Website.
Butch Hill's 1953 Studebaker B/G beauty certainly earned a spot here since I've always been a sucker for flames painted on race cars and it is a beautiful machine.
Randy Winkle, Jr's Competition Coupe "One Bad Hombre" is a gorgeous machine up close, everything fits like it was made for the car. Which it most likely was! An excellent article on this particular dragster can be found on the Speedhunters web site at This Link.
And then there is this one. An orange blown Henry-J with a taxi sign on top. What I really loved about it was the driver's helmet and gloves. The moniker of "Wild Bill" certainly fits that appearance!

FINAL THOUGHTS

An absolutely fabulous day at the race track. I had hoped for two but the remnants of Tropical Storm Bill literally put a damper on that so I guess I'll have to settle for one day. That's OK, I'm planning to go back in August for the NHRA Lucas Oil Top Alcohol Regional and again in September for the NDRL Nostalgia Nationals. I'm sure some of the same cars will be there so I'm already looking forward to seeing them again.

To all the crews, drivers, track crews, starters, announcers, clean-up crews, security people and everyone else involved with the event, my sincere thanks. You guys did a great job and the event was a good one.