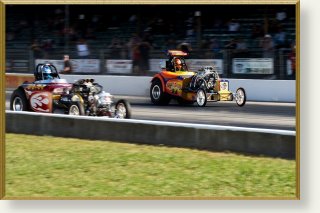 The 2015 Goodguys NDRL Nostalgia Nationals drag race was held at Beech Bend Raceway on September 18-20. I went on Friday and Saturday and had a great time. I'm already looking forward to next year!
OLD FRIENDS REUNION!


Lots of photographs below, but I'm going to start this one out a little different from most of my write-ups.

I used to race R/C cars years ago, and after I quit I lost contact with many of the friends I had made. One of the few that I do still keep in touch with told me that a couple of guys we used to race with were still drag racing and planning to run their '32 Bantam at this race so I made sure to get in touch with them beforehand and let them know I'd look them up.

The car was built by John Baker and Mike Skeen back in 1980 and updated to NHRA specs during the winter of 2009 and spring of 2010. It is now driven by Stan Hunter with crew help by Ed Cooper. I used to race with all of them but hadn't seen them in about 20 years and that is just far too long. It was absolutely wonderful to see most of them and catch up on lost time. Mike wasn't there so I'll have to catch up with him next time. I promise it won't be another 20 years!

Friday Warm-Up

Friday Time Trial

Friday Time Trial

Friday Qualifier

Friday Qualifier

Saturday Warm-Up

Ready To Rock and Roll!

Saturday Qualifier

Saturday Qualifier
I got a text from Stan a few minutes ago informing me that they qualified #1 in the 9.50 ProComp class with a 9.505 on the second run on Saturday so they are in a great position for the eliminations tomorrow. I won't be there so you guys tear 'em up!

Edit – Sunday Morning – They made it through the first round of eliminations!

Edit – Sunday Evening – But they didn't make it through the second round ;( Sorry guys, but a lot of others didn't even get that far. You did good!

FRIDAY MORNING PIT WALK


I always start out a day at the track with a walk through the pits and this day was no exception. Watching the cars screaming down the track is a thrill but we don't have the opportunity at that time to see the detail and the work that goes into one. We see them in action for a few brief seconds but I like to walk through the pits and look at the details and appreciate the time and effort that goes into making one of them perform as they do. These are amazing machines and sometimes I think we fail to appreciate everything that goes into those short runs.

Temperatures were in the mid 80's most of the day with pretty much cloudless blue skies. That's both good and bad for photographs since the light was harsh and direct making for deep shadows but at the same time it made the colors on the cars bold and vibrant.

Most, if not all, of the cars shown here can also be seen in action on the track in the photos further down this page. There are also some more "Quiet" shots from my Saturday morning pit walk down the page.

---

The car below is a '57 Chevy Belair funny car named Suzy Q that runs in the Pro 7.0 index. I've swapped email with one of the owners a couple of times. Sue is also the driver and I had the pleasure of meeting her on Friday and talking for a few minutes. A wonderful lady and a beautiful machine. Stop in and say hello if you see them around a race track. There are also some shots of Suzy Q in action further down this page.

FRIDAY ON THE TRACK


Open time trials ran until about 11:00 (I think) so there is no pattern to the classes. The photographs below are in the order that I shot them, and at times there were mild semi-street cars in one land and blown alcohol cars in the other lane. Starting around 11:00 they went into the first round of qualifying so the cars were running in class order after that.

---

I enjoy all of the classes, but in all honesty it's the fuel cars that really thrill me. The all-enveloping sound is a sensation that has to be experienced to be understood. And, well, yeah, there is just a little bit of tire smoke ;)

The field here consisted of four Fuel Funny Cars, two Fuel Alterds, and one lone Top Fuel Dragster.

---

The two Fuel Alterds shown in the photographs below were pretty well-known cars back in the day. The Rat Trap has been around for 46 years and Pure Hell for 52 years. Naturally they have both been through numerous owners, drivers, and upgrades over the years but the appearance is the same and it was a unique experience to see both of them on the track at the same time.

2015 is the Farewell Tour year for Pure Hell's legendary owner Rich Guasco. The car will most likely be back next year with a new owner, but the original is retiring. More information can be read at This Web Page.
Both cars ran again on Saturday, as did the Funny Cars, so there are more photographs further fown this web page.

SATURDAY MORNING PIT WALK


A bit different weather today compared to yesterday. Off and on clouds with a temperature drop of about 10° forecast for tonight. No rain though, just patches of cloud separated by patches of sunlight. I can handle that!

As usual I started out the morning with a walk through the pits. There was also a car show at the track this weekend, as part of the same event, so I wandered around looking at the show cars as well.

SATURDAY ON THE TRACK


---

Whether by intent or just plain luck, the two fuel alterds Rat Trap and Pure Hell swapped lanes today. It makes a difference to me because most of the time I can't get good photographs of a car in the lane closest to me because of the wall. Yesterday Rat Trap was in the far lane and today Pure Hell was in the far lane so between the two days I managed to get good shots of both of them. Thanks Guys!

NDRL CLASS WINNERS


A great deal of effort by a great number of teams boils down to a few winners at the end of the day. That's why it's called racing! Congratulations to all of the class winners.

---

Pro 7.0 – Steve Walczak – '32 Bantam #1216

---

Pro 7.5 – Darrell Wathen – '41 Willys Coupe #3340

---

Pro Comp – Adam Satterfield – '32 Bantam Altered #A397

---

Pro Gas – Kurt Duckworth – '67 Camara #102D

MY FAVORITES


I don't even know where to start! I scrolled up and down this page several times trying to decide what my favorites of the race were, and I had a terrible time narrowing it down to just a few. So many magnificent cars it was virtually impossible to separate just a few out. In reality they were ALL my favorites but here are the pick of the bunch as I see it:

---

John Baker / Mike Skeen / Stan Hunter / Ed Cooper – "Pure Junk" 9.5 Index ProComp – This was obviously my first choice since I've known everyone involved with the car for years. This was the first time I've seen them in a long time, and it was a wonderful reunion for a little while.

---

Sue and Steve Christophersen's 7.0 Index '57 Chevy "Suzy Q" – My #1 choice at the Hot Rod Reunion earlier this year, this one is still the Belle of the Ball as far as I'm concerned. I got to meet Sue Christopersen this time and that made it even better. Suzy Q's web site is at This URL.

---

Ron Hope's Fuel Altered "Rat Trap" – This car was also at the Hot Rod Reunion earlier this year but unfortunately I didn't get to see it run. It was worth the wait! Rat Trap's web site is at This URL.

---

Anthony Bronge's Nostalgia Fuel Funny Car "Iowa Punisher" – This is the first time I've seen this one, and it was also worth the wait. Funny cars wearing Corvette body shells aren't all that common and this one looked wicked ;).

---

Jeff Sanborn's Hemi Powered 1938 Fiat Topolino "Bruiser" Fuel Altered – I Searched and searched for info about this little critter, and my buddy Stan came to my rescue and identified it for me. A wicked cool little monster that loves to do long, smoky burnouts halfway down the track..

FINAL THOUGHTS

A great weekend all in all. Mild early fall temperatures, seing friends I haven't seen in a long time, gorgeous cars in the pits and on the track. The smells and sounds of high-performance machines screaming down a track just so I could take photographs of them ;) What could be better than that?

To all the crews, drivers, track crews, starters, announcers, clean-up crews, security people and everyone else involved with the event, my sincere thanks. You guys did a great job and the event was a good one.