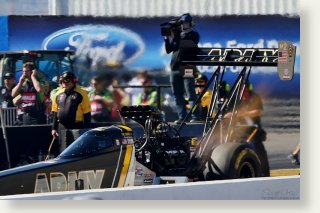 Once again I made a winter sojourn to the Valley of the Sun to visit friends, go to the NHRA drag race, and enjoy some clear blue skies and sunshine for a few days. What a special treat to leave 40° weather, clouds, and snow flurries for clear skies and 80° weather in Arizona!

Thanks to my friends I got to do and see a lot of things packed into a few days. Memorable places, that I'll always remember, made more so by the people I visited with.
Here are the highlights. Each of them is a link to the section on this page so if you want to skip directly to a section click the appropriate link.
32nd ANNUAL NHRA CARQUEST AUTO PARTS NATIONALS – CHANDLER, AZ

I love virtually any kind of motorsports but since I was a kid drag racing has always been near the top of the list. And when I can get to an NHRA pro event I am going to go! This is my third trip to see the CarQuest Auto Parts Nationals and I hope it won't be the last time. Lots of photographs from the race are below so if you don't like racing you can Click Here to jump around this section.

And check out that gorgeous blue sky in some of the photographs! It probably doesn't mean much to people from the southwest corner of the country, but to someone who has spent a couple of months looking at brown trees, dead grass, gray skies, rain, and otherwise gloomy conditions, it looks magnificent!

In The Pits …

Unsung Heroes …

Drivers and owners tend to get all of the exposure in virtually every racing venue, but without the people behind the scenes the cars would never make it to the track. It takes an enormous amount of work to get a car track ready, from the fab guys, machinists, mechanics, logistics people, office staff, truck drivers, and everyone else involved there are untold hours of preparation to get a racecar ready. Many of them we never see or hear about because they don't travel with the team. But here are a few of them that did make it to the track, just as they do for every event.



John Hale Crew




Courtney Force Crew




Courtney Force Crew




Del Worsham Crew




Robert Hight Crew

---




Steve Torrence Crew




Tommy Johnson, Jr. Crew




Tommy Johnson, Jr. Crew




Tommy Johnson, Jr. Crew




Ron Capps Crew

---




Antron Brown Crew




Tony Schumacher Crew




Tony Schumacher Crew




Cruz Pedregon Crew




Richie Crampton Crew

People …

One of the things that I appreciate about drag racing compared to other forms of racing is the way in which the drivers make themselves available to the fans. I remember going to a NASCAR race once and asking a well-known driver for an autograph (I didn't like the guy and the autograph was for a friend) who said he would be back in about 5 minutes. I'm still waiting, I guess, and that was about 20 years ago. Contrast that to this race where a young kid asked Jack Beckman for an autograph. Mr. Beckman told him that he had something he had to do and would be back in 10 minutes. In 10 minutes he was back, the kid got his autograph, and in addition got the thrill of his life when Mr. Beckman asked him to help pack his parachutes.

Another example. Clay Millican is from Drummond, TN, and I'm from Nashville, TN. I happened to see him driving through the pits on his cart and waved at him. Despite his hectic schedule he stopped, jumped off the cart with his trademark smile, and I shook his hand and wished him luck from one Tennessean to another.

These men and women are unbelieveably busy between runs yet the vast majority of them not only make themselves available to the fans but honestly appear to truly enjoy meeting them. Other forms of racing are not that cordial and some of the drivers seem to be far more aloof than in drag racing. Add to that the fact that every NHRA ticket is a pit pass, as opposed to other venues where a pit pass costs a fortune, and you have an event where the fans seem to be truly appreciated instead of just being in the way.

All of the "People" photographs I take are candid photos. I realize that these people are busy and that other people are trying to meet them so I try to stay in the background. I don't ask them to pose for a photograph even though the majority of them would be happy to do so. So, my thanks to all the drivers. Your attitude, and the time spent making yourselves available to your fans, truly does make a difference to the fans.



Clay Millican




V. Gaines




Tommy Johnson, Jr.




Matt Hagan




Leah Pritchett

---




Dave Connolly




Terry McMillan




Tony Pedregon




Erica Enders-Stevens




Jack Beckman

---




V. Gaines




Jim Head




Aaron Brooks




Jamie Howe




Traxxas Girl

On The Track …

I didn't photograph every car that went down the track. I didn't even photograph every class that ran. I simply enjoyed my day, I'm selfish like that. I watched them run for a while and then I roamed around the pits for a while. Sometimes I even just watched them run without taking a single photograph. Like I said, I'm selfish like that. Also, the photographs below are a small sampling of all the cars that ran because the classes were HUGE!

I would also like to take a moment to thank all the people that felt like they absolutely had to line up along the fence. It's not like we were in a general admission section, we were in a reserved seat section that was fenced-off from the rest of the grandstands, tickets were checked when we entered the area, and everyone there had an ASSIGNED seat that they were supposed to be sitting in. Instead they chose to stand against the fence and poke their heads up in front of others trying to see. Thanks guys! I lost a lot of great photographs, some of the best that I took, because of heads poking into the frame.

Super Comp Class …

Top Sportsman Class …

Top Dragster Class …

---

There are not a lot of photographs past the burn-out in the pro classes since I like to watch the runs as well as the next guy. Like I said, I'm selfish like that.

Pro Stock Class …

The Pro Stock class underwent major changes between 2015 and 2016. Gone are the iconic hood scoops and dual-quad carburetors with the rule change mandating electronic fuel injection. Compare the hood from 2015 (left photo) to the hood of 2016 (right photo).

---




Matt Hartford




Deric Kramer




Alex Laughlin




Allen Johnson




Allen Johnson

---




Vincent Nobile




Bo Butner




Greg Anderson




Jason Line

Fuel Funny Car Class …




Jim Campbell




John Hale




Cruz Pedregon




Cruz Pedregon




Tim Wilkerson

---




Tim Wilkerson




Alexis DeJoria




Courtney Force




Jack Beckman




Jack Beckman

---




Jack Beckman




Jack Beckman




John Force




Robert Hight




Robert Hight

---




Ron Capps & Del Worsham




Ron Capps




Ron Capps




Del Worsham




Ron Capps

Top Fuel Dragster Class …




Shawn Langdon




Shawn Langdon




Dave Connolly




Brittany Force




Brittany Force

---




Terry McMillan




Tony Schumacher




Tony Schumacher




Clay Millican




Antron Brown

---




Clay Millican




Clay Millican




Clay Millican




J.R. Todd




Richie Crampton

---




Richie Crampton




Steve Torrence




Steve Torrence




Steve Torrence & Doug Kalitta




Leah Pritchett

And The Pro Winners Are …

PRO STOCK – JASON LINE

The switch from carburetors to electronic fuel injection has thrown a number of the Pro Stock teams a curve this year. Jason Line is one of those who have managed to overcome the changes and he and his Summit Racing teammate Greg Anderson have won both races so far this year.

Congratulations Jason!

---

FUNNY CAR – TIM WILKERSON

As one of the smaller funny car teams Tim Wilkerson and his crew have a lot to prove, and they manage to do it admirably. They got around Chad Head, Ron Capps, Robert Hight, and John Force to take top honors at Phoenix.

Congratulations Tim!

---

TOP FUEL – LEAH PRITCHETT

An iconic top fuel final matched Brittany Force against Leah Pritchett, only the first time since 1982 that two women have met in a top fuel final race. It would have been the first career win for either of these women, and Leah Pritchett came out on top. Certainly the first of many to come.

Congratulations Leah! Scratch that: My SINCERE congratulations!

The Highlight Of My Race …

I did something at this race that I wanted to do last year but didn't get the chance. Jack Beckman drives the Infinite Hero Dodge funny car sponsored by Terry Chandler, and each pass he makes he carries a limited number of "Challenge Coins" down the track with him. These coins are Available for Purchase at the track or from the web site. This year I bought one and I hope I'm able to purchase another one next year since the proceeds go to a cause that I believe in.

I'll never drive a fuel car but as can be seen on the autograph side of the photograph, that little coin went 316 mph in 3.993 seconds during the 1st qualifying run at Phoenix on February 26, 2016 so at least I own something that did ;)

Nope, no larger copies of this photograph. If you want to see one full-size you'll have to buy one of them like I did. Or you can look me up and I'll show you mine!

Sad Epilog …

NHRA CHIEF STARTER MARK LYLE – 1957-2016

I just found out while watching the NHRA event at Las Vegas that NHRA Chief Starter Mark Lyle died on March 27 while trying to rescue a drowning friend. My condolences to the family and friends of Mr. Lyle. A tragic end to a good man, and he will be missed.

INTERNATIONAL WILDLIFE MUSEUM – TUCSON, AZ

The International Wildlife Museum in Tucson, AZ is a remarkably interesting museum dedicated to wildlife from around the world. Everything from insects to carnovores can be found in the museum and I spent a wonderful couple of hours wandering around and taking photographs. Be aware that this facility is a MUSEUM, it is not a ZOO. With a few exceptions all of the animals are stuffed or mounted so if you don't want to see the photos Click Here to skip this section.

The exhibits ranged in style from wall-mounted to glass cases to diorama exhibits. The dioramas are quite well done and present the animal with a background that is reminiscent of its normal environment.

DESERT BOTANICAL GARDENS – PHOENIX, AZ

I think I've been to the Desert Botanical Gardens every time I've been to Phoenix simply because it is such a fabulous place to visit. I'm not even a "Flower Person" and can barely tell a Rose from a Dandelion but I love the way they present the desert flora, it is really great.

They are presently hosting an exhibit by Bruce Munro named "Sonoran Lights" which consists of thousands of glowing spheres and bottles. Everything is lit using fiber optic and while it is most assuredly impressive I wasn't as enthralled with it as I was with the Dale Chihuly exhibit I saw there in 2009. It is technically amazing based on the thousands of glowing lights and fiber optic cable they had to run to make things work, but from an artistic standpoint I didn't feel that it was that great. Photographs are below so everyone can decide for themselves.

There are 8 areas of the exhibit and we got there about an hour before sunset so we could see them in daylight as well as in the darkness.

TITAN MISSILE MUSEUM – SAHUARITA, AZ

The Titan Missile Museum is just south of Tucson, AZ in Sahuarita, AZ is a really interesting stop for those of us who remember the tension of the Cold War years. It is the only remaining Titan II missile site that is open to the public, and was an active Titan II ICBM missile site (site number 571-7) from 1963 until 1982. The missile in the silo is inert, it does not have a warhead installed nor has it ever been fueled, so it is safe for the public to view. There is a lot of information regarding the site on Wikipedia.

The tour goes down through the installation entry port, through 3-ton blast doors, and into the Launch Control Center where a crew stood watch 24 hours a day, 365 days a year. Traversing a walkway between the launch control center and the silo allows visitors to view the 103′ tall Titan II missile in the silo. Back to ground level we were able to view a number of missile components and the security arrangements that protected the site.

A few interesting facts about the Launch Control Center:

The 3-ton blast doors were mounted in the early 1960's and they were set exactly 1/4″ above the floor. Today, 50+ years later, they are still exactly 1/4″ above the floor
The entire facility is shock-mounted to absorb the energy of a nearby nuclear explosion. If that were to happen the facility had to maintain its integrity to be able to fight back. One of the photos below shows my arm in front of one of the massive springs that support the entire facility.
The entire facility has an internal diesel generator to power it in the event that outside power was lost (which would certainly be likely to happen in the event of an attack) however the few seconds that it would take for the generator to come online could not be tolerated. A few seconds made a huge difference when trying to hit a target 6,000 miles away, so all of the instrumentation runs from 28 volts DC and there are huge battery banks that provided facility power during those critical seconds.
Everything in the facility is well grounded electrically. Some of the photos below show braided stainless steel ground straps connecting components to ground. In the photograph that shows the fueling hardstand there are grounding straps going between the flanges on the fueling pipes. An electrical fire anywhere on this facility would be a really bad thing!
Most areas within the launch control center were "No Lone Zones". A single person was not allowed in those areas, a minimum of 2 people were mandatory. This was done to limit the possibility of sabotage by one of the crew members and also to prevent one person from being able to launch the missile.
Two launch keys were required to be able to initiate the launch. As has been shown in countless movies, the two key slots were located in positions that made it impossible for one person to insert and turn both keys simultaneously.
The crew never knew the locations at which the missile was targeted. The console has 3 target selection buttons and the crew would be told to select target 1, 2, or 3 but they never had any idea what the targets actually were. To this day the actual locations of those 3 targets is a secret.
Once the missile launch was initiated there was no way to stop it. Once initiated the missile was going to launch, the crew had no means to stop the launch or disable the missile, and it was going to deliver a 9 megaton nuclear warhead to the designated target.
Fuel flow to the first and second stage engines was controlled by four butterfly valves. One of the valves on the first stage engine had a pin that prevented it from opening unless a 6-digit code was properly entered in the launch control center that electrically withdrew the pin.

A sobering facility from a very tense era, but all in all a truly interesting visit.

TOMBSTONE AND BOOTHILL – TOMBSTONE, AZ

For some reason visiting Tombstone, AZ has been on my bucket list forever. I'm not really a big cowboy fan but for whatever reason I've always wanted to visit Tombstone. Now I can say that I have and it was WORTH IT!

Boothill Graveyard …

Tombstone, AZ in the 1880's was apparently a very violent place where human life had a very low value. Boothill Graveyard was the burial place for Tombstone and reading some of the markers, as well as the booklet "Boothill Graveyard: A Descriptive List of more than 250 Graves in Boothill", which is available at the site and also on This Web Site, shows that the reasons for many of the deaths is laughably absurd by today's standards. A number of the markers are shown in the photographs below.

Boothill Graveyard, like most of Tombstone, is on the National Register of Historic Places and it is an actual cemetery. Visitors are advised to treat it with the respect any cemetery deserves.

Tombstone, AZ – The Town Too Tough To Die! …

Note that there are a lot of photographs taken inside the Gunfighter Hall Of Fame, especially of the firearms. They were all in glass cases with low levels of illumination (ostensibly so that the ultra violet in the light wouldn't damage the artifacts). Because of that the photographs have a lot of reflections in them and were shot at a relatively low shutter speed so they aren't that great. Sorry, I worked with what I had.

---

---

We spent the night in Tombstone and, as usual, I was up at dawn. Tombstone rolls up its sidewalks early in the evening, except for some of the saloons, restaurants, and ghost tours, and doesn't open very early either. I had a great time roaming around early in the morning with hardly another human to be seen.

The photographs below were taken between about 6:30 and 7:30 local time and there is not another person visible in any of them. I just wandered around enjoying near total quiet (a real treat for a city boy like me!) and the clear, clean desert air. Brenda's Chuckwagon restaurant opened at 7:00 so I stopped for some coffee and then roamed around town a bit longer.
We stayed at the Larian Motel and I can recommend it highly. Clean as a hospital, very reasonable, all of the common ammenities (WiFi, refrigerator, free coffee, etc.), and only about a block from "Downtown" Tombstone. It is rather small, only about a dozen rooms, so don't drive in and expect to find a room. You'd better call ahead for a reservation!

BISBEE AND THE COPPER QUEEN MINE – BISBEE, AZ

Bisbee, AZ was named in honor of Judge DeWitt Bisbee who was one of the financial backers of the Copper Queen Mine. Mr. Bisbee reportedly never visited Bisbee, AZ, I guess he didn't want to get his hands dirty, but a little dirt doesn't bother me. Once again, Wikipedia has some excellent information about the town and the mine.

We took the Copper Queen Mine tour, and while I didn't take any photographs in the mine, just one of the entrance sign, it was a truly inspiring place. Hacked from solid rock by men with drills and dynamite traveling 1,500′ into that mine is quite an experience.

No, the photographs below aren't of the Copper Queen Mine, they are of the Lavender Pit Mine in Bisbee. It was opened in 1950 and closed in 1974. It covers an area of 300 acres and is about 900 feet deep.

TRIP SUMMARY

Each time I go to Phoenix my hosts have always, without fail, come up with something unique and interesting to show me. I don't know where they come up with some of the ideas but I'm certainly glad that they do. Never a dull moment, always something fun going on, and a memorable trip when I head back home.

I've said it before and hopefully I'll have the opportunity to say it again: You guys are the absolute BEST and I don't know what I'd do without you. My sincere thanks, once again, for all that you do.