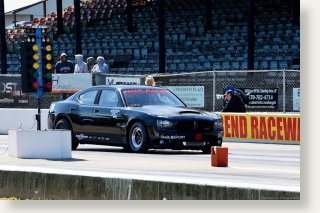 I drove to Beech Bend Raceway on April 9 for the first half of a "Saturday Double-Header"; ChallengerFest 7 at Beech Bend in the morning and the Music City 200 ARCA race at Nashville Fairground Speedway in the evening.

As can be seen in some of the photos below it was a gorgeous day, not a cloud to be seen, but it was just plain COLD! It was 37° when I got to the track and the wind was blowing about 15 mph making it feel even colder. Luckily I still had my winter coat in my vehicle or I would have been in trouble.

ChallengerFest is open to modern Challengers, Chargers, 300's, Magnums, and Jeeps and there were a bunch of them. I've always been a Mopar fan so I was in eyecandy heaven ;) Every color of the rainbow, and pretty quick to boot. Most were in the mid 10 second bracket running about 126 mph however there were a number that were quite a bit quicker and an equal number that were quite a bit slower. What really amazed me (and I didn't get a good photograph of it because I didn't expect it to be so quick) was a mostly street-legal Jeep Cherokee / Renegade / Liberty / Something that put down an 8.500 second pass at 166.xx mph!

Lots of fun, lots of cars, and a great morning to be at a race track.

In The Pits …

On The Track …