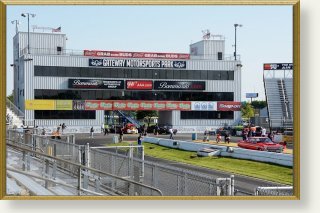 The 2016 NDRL Nostalgia Rendezvous was held at Gateway Motorsports Park in Madison, IL and some of my friends invited me to go with them. Since they were racing in the 9.50 second Pro Comp division I spent a couple of days at the track as part of their crew. I probably wasn't much help as a crew member, but I had a fabulous couple of days hanging around with friends, seeing some great machinery and racing, and getting my "Race Fix" for a few days. Plus, having an "All Access" crew-member wrist band is a big advantage at a race track!
FRIDAY – MAY 6, 2016


The track was scheduled to open at 10:00 and we got there early so we wouldn't spend half a day sitting in a line to get into the pits. It was a beautiful, clear morning so hanging around talking to other racers and waiting for the track to open wasn't a terrible hardship. We eventually got in, got the trailer unloaded, and everything set up. Since we weren't scheduled to make our first qualifying pass until 3:00 we had plenty of time.

Friday Strolls Through The Pits …..

Friday On The Track …..

---

Since these were the guys I was hanging around with they get a little bit more exposure than everyone else does. It might not be fair, but what the heck it's my web site ;)

---

Friday is in the books now. Not a great qualifying pass for us, but we are in the show and have two more chances tomorrow.

SATURDAY – MAY 7, 2016


Saturday Stroll Through The Pits …..

Funny Cars!

I don't know precisely what it is about funny cars that amazes me but there is something there. These machines just absolutely amaze me. This year is the 50th anniversary of their "Official" beginning.

There were three of them at this event and they were scheduled to make two exhibition passes. Two of them, the pair that run together in the photographs below, are alcohol funny cars while the third is a nitro-fueled funny car. All three are considered to be "Nostalgia" funny cars and only have about one-third the horsepower of today's nitro-belching monsters, but they are still perfectly capable of easily exceeding 200mph in the quarter mile.

The crew chief for John Troxel's "Mopar Crazy" is Roland Leong. He has been a drag racing legend for as long as I can remember and it was a rare treat to see him in person.
Just to give an idea of the perfomance of these machines I'm going to show three of the photos again, this time with a time stamp.



05-07-2016 — 12:27:37.10




05-07-2016 — 12:27:37.30




05-07-2016 — 12:27:37.50

Photo 1 – 12:27:37.10 – Amber lights are on, car is sitting still. On a "Pro Tree" the amber lights are on for 4/10 second followed by the green.
Photo 2 – 12:27:37.30 – NO lights are on (although the red light indicating an early start may be on). But look at the wheelie bars. There is a white chalk mark from the wheelie bar wheels about 6″ long that wasn't in the photo taken 0.2 seconds earlier.
Photo 3 – 12:27:37.50 – The green light is on and the car has moved a couple of FEET in the past 0.2 seconds.

Saturday On The Track …..

Final Thoughts …..

A day at a race track is hard to beat. Two of them in a row is about as good as it gets ;) A great big Thank You to Stan, John, and Ed for letting me hang around all weekend. I had a great time and look forward to doing it again.