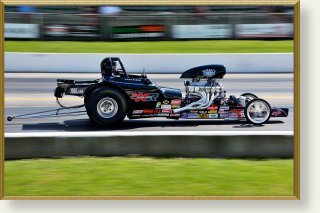 Another weekend, another race ;) Not that I'm complaining though. As one of the guys I went with so elequently put it yesterday, "A bad day at a racetrack is better than a good day at pretty much anything else."

The 2016 Jegs Sports Nationals were held at Beech Bend Raceway on May 26-29 after a 35 year hiatus. The event was held at Beech Bend from 1974 to 1981 and returned this year. I went on Sunday with some friends and it was great. I don't know how many cars were entered in the race but I did hear the announcer state that the Super Stock class alone had in excess of 120 entries.

While the weather forecast showed a 50% chance of rain it did stay away throughout the day. In-and-out clouds were present all day, and it was rather warm with a high close to 90°. Still a great way to spend a day, and as usual I had a great time.
Stroll Through The Pits …..

I didn't get photographs of even a small percentage of the cars that were there. The pit area was absolutely packed to overflowing with race cars and trailers. The Stock, Super Stock, Super Gas, Comp Eliminator, Top Sportsman, and Top Dragster classes were all thoroughly represented.

On The Track …..

I tried something different at this race. I actually watched many of the races as opposed to trying to get a photograph from each pair. I took a lot fewer photographs of the cars in motion, and made up for some of them by getting them during or just after their burnout, but I really enjoyed watching them make their runs for a change ;)

---

---

---

---