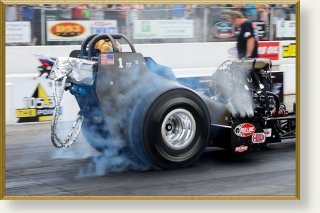 The 2016 Hot Rod Reunion was, once again, held at Beech Bend Raceway on June 16-18. Between the car show and the drag race there were more cars there than I could possibly see, and for two days it was a complete visual and audible sensory immersion. Show cars polished to perfection and race cars doing everything they could to be #1 at the end of the event.

I went Friday and Saturday, and is usually the case in Southern Kentucky / Northern Tennessee in June it was hot and it was humid. I wasn't there Thursday and from what I was told I feel fortunate. It cooled down about 10° between Thursday and Friday so I'm not sorry to have missed it.

The two days I was there were an off-and-on mix of blue skies and gray overcast with periods of puffy cumulus in between. The cloud cover was welcome when it was there as were the unique covered spectator stands that Beech Bend provides. I was also fortunate to have some friends racing who allowed me to spend time at their trailer, in front of the fans. For that I am truly grateful!

But the heat was bearable because it was nothing compared to the heat on the track. All the NDRL classes were well represented including Nostalgia Top Fuel and Nostalgia Funny Car. The only damper to the weekend, other than the heat, was that the schedule got WAY behind (make that waaaaaaaaaaay behind!) and I didn't get to see the funny cars run. I talked with Bazz Young of Down Under Thunder for a few minutes early in the day and he told me that they were supposed to run Saturday at 3:00. When I left at 5:30 they still had not run and I heard Sunday that it was between 7:00 and 7:30 when they finally took to the track. This despite not running the first round of eliminations for the Competition Eliminator class on Saturday.

They didn't seem to make up much time on Sunday either. The first class was supposed to hit the track at 10:00 and it was 10:30 when it actually happened. I'm sure there was a reason, but I would have thought that as far behind as they were they would have started about 8:00 to try and make up some time. There were a LOT of cars racing so I suspect Saturday turned into a very long day for some of the crews.

Regardles, I had a great time. Lots of noise, smoke, and color and that's all it takes to make me happy ;)
IN THE PITS ….


ON THE TRACK ….


MY FAVORITES ….


I don't have much information on some of these because I didn't get photographs at an angle that gives me much to identify them with. But I liked them so here they are:
CALEDONIA REBEL – An absolutely immaculate altered. Beautiful paint, beautiful lines, and pretty damn quick!
'67 CHEVY II – I've seen this car at a couple of other races and it is as impressive in motion as it is sitting still. I really wish the "Media" guy hadn't been standing there, but it's where the car stopped after it's burnout so it's the shot I got.
ADAM SOROKIN'S TOP FUEL DRAGSTER – La Crescenta, CA driver Adam Sorokin won the Top Fuel category with a run of 5.762 seconds at 237.38 mph in this one.
'33 WILLYS – TRICK OR TREAT – Frankie Allen's '33 Willys Gasser is yet another beautiful machine. The blown and injected small block Chevy makes it run pretty well to.
'32 AUSTIN BANTAM – PURE JUNK – I actually do know the story behind this one because it's the guys I hang out when I'm at the track. Owned by John Baker and Mike Skeen, driven by Stan Hunter, and crewed by Ed Cooper. It was built in 1980 and updated in 2009 to NHRA specs and now runs in the 9.50 Comp Eliminator class in NDRL competition. Stan qualified it at 9.552 on Friday.