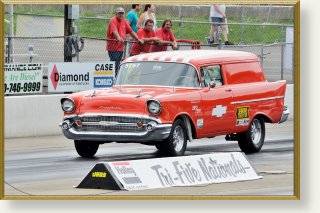 Three weeks! Three WEEKS it's been since I heard the thunder of racecars. Thunderstorms the past two weeks kept me at home, and I was beginning to have withdrawals. Since the 2016 Tri-5 Nationals were held at Beech Bend Dragway again this year I went on Saturday to get my racecar fix for the week.

Unlike Last Year's Event most of today was spent under heavy overcast. The fact that the clouds kept the temperature in the mid 80's was welcome however the short storm that delayed things wasn't. The track crew at Beech Bend does an excellent job though, and in about 45 minutes the track was dry, groomed, and ready to race on again.

But just like last year's event there wasn't a Mustang or Mopar or anything else to be seen. Just Chevrolet bow-ties as far as the eye could see, and virtually all of them pushing 60 years old!
Stroll Through The Pits …..

On The Track …..

Intermission …..

Given the cloud cover, it had to happen sooner or later. The skies opened up and the rain came for about 10 minutes, and then it stopped. The track crew went to work on drying the track, the sun popped back out after a few minutes, and in about 45 minutes they had the track dry, groomed, and ready to race again.

---

Ironic and Lucky …..

IRONIC #1

Given the sponsor on the side of the car I'd suggest that the owner talk with his sponsor about a little body work.
IRONIC #2

Camarillo, CA … I remember it fondly. I took a motorcycle trip from Phoenix, AZ to the west coast and we spent the night in Camarillo. It's a beautiful place and he's a long way from home.
LUCKY #1

I think this was the end of Bounce #3. He did a HUGE wheelstand at the hit, backed off slightly, bounced back up in the air, backed off again, and then bounced back up and down. As can be seen in the photo he's angled toward the wall but he never hit it.
LUCKY #2

I saw this guy make two passes, and as I recall they were both in the 8.5 second range. Notice the yellow streamer behind the car in the photo? That's the safety pin for his parachute and it was there on BOTH runs. Good thing he didn't need his 'chute because it sure wouldn't have worked either time.