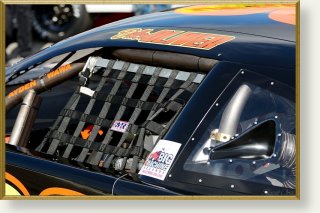 The All American 400, held at the Nashville Fairgounds Speedway was for a number of years the highlight of my fall. 400 laps of noisy, smelly, fast, frantic stock car racing held under crisp, clear fall skies! What's not to like? But times change, as do political climates, and for a number of years it apparently was not held. It's back again and I'm glad to see it!
2015 ALL AMERICAN 400 – OCTOBER 18, 2015


The 2015 race was originally scheduled for October 3 & 4 but weather forced the race organizers to postpone it until the weekend of October 17 & 18. Saturday evening included a 100 lap Late Model event with the top 6 finishers moving on to Sunday's race. I didn't go on Saturday but I was there on Sunday.

---

A few shots from the pits before the race.


---

And the main event: The 2015 All American 400

---

Bumps and bangs – Inevitable on a short track.

Dominique Van Wieringen gets hit on the back straight and goes for a ride. Her day was done early.

---

- Austin Brawley managed to get his left side skin pealed back somehow. A little duct tape and it was good as new though.

---

- Dustin Smith and Derek Scott, Jr. tangled in turn 3.

---

- I didn't see who Davey Coble tangled with but his day was done early.

---

And the top 5 finishers are:
- 1st Place: Daniel Hemric

---

- 2nd Place: Bubba Pollard

---

- 3rd Place: John Hunter Nemechek

---

- 4th Place: Chad Finley

---

- 5th Place: Cole Rouse

---

My thanks to ALL of the drivers, promoters, teams, and track workers for giving me something to enjoy on a Sunday afternoon.