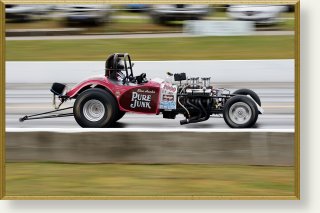 The Goodguys Nostalgia Nationals in association with the Nostalgia Drag Racing League were held at Beech Bend Raceway October 14-16, 2016 so I made a long weekend out of the event and spent three fantastic days there. There is no better treat for a motorhead than spending three autumn days hanging around a racetrack with friends. What a blast!
And, yes, the vast majority of the photographs were taken on Friday for a couple of reasons. First, I shot about 335 frames on Friday and by Saturday and Sunday I was starting to shoot duplicates so I spent a good bit of time just enjoying the races. Secondly, Friday was a better day for photography since it was overcast most of the day which eliminated a lot of the harsh shadows I get on the track shots.
AROUND THE PITS


Friday – October 14, 2016
Saturday – October 15, 2016
Sunday – October 16, 2016
To me there is something relaxing about a racetrack early in the morning. Few people are stirring and it is very quiet and peaceful for a little while. It doesn't last though. In a couple of hours the track will awaken and the furious howl of race engines will replace the calm.

ON THE TRACK …..


Friday – October 14, 2016
Yes, I know that the wall is in the way in some of the photos and that's why I usually shoot the car in the far lane. I can avoid the wall that way. The only other alternative is to sit way up high in the stands and then I'm shooting down on the cars and I don't like to do that. I usually compromise and sit about halfway up the stands and if the car is not right on the edge of the lane I can avoid most of the wall. It's always a trade-off and I do the best I can.
That would have been a pretty good burnout, if the smoke was coming from the tires. It wasn't though and it took them about 30 minutes to clean up the oil and groom the track. It wasn't the driver's fault, he's watching the track in front and not behind him. It's just one of those things that happens at a drag race.

---

I love the smell of nitro in the morning. Ok, so it was late afternoon. Either way I love the smell.

And the sound! Beech Bend is one of a very few tracks with covered stands for the spectators, and those covers tend to amplify sound. I've seen Top Fuel Dragsters and Funny Cars in person and while these machines didn't approach that level the sound was still awesome!nbsp; Look at all the people in the photos with their hands over their ears, the same people in previous photos that didn't have their hands over their ears! I was holding a camera so I couldn't cover my ears with my hands, but I was fine since I was using ear plugs with a NRR of 33dB and ear muffs with a NRR of 20dB over the top of them ;)

There were 3 fuel alterds (Nanook, Rat Trap, and Nitro Madness) and 5 fuel funny cars (Thunder Down Under, Mr. Explosives, Crop Duster, Allstar Dodge, and Iowa Punisher) at the event. These aren't the 10,000 hp top fuel monsters of today but rather "Nostalgia" machines built using today's safety standards and requirements but old school time and speed criteria. That doesn't mean they were slow by any means. They were running between 240 and 245 mph in the quarter mile which would have set national records in the late 70's and early 80's.
Saturday – October 15, 2016
Sunday – October 16, 2016

MY FAVORITES …..


It's virtually impossible for me to pick 5 of these machines that I feel are my favorites, if for no other reason than it changes each time I look at the photos. Oh well, I'll take a shot at it. And since my buddy Stan got the masthead photo (the photo at the very top of the page) that means I can pick five without worrying about hurting his feelings ;)

---

Larry Harlen's "One Bad Anglia" always tends to float to the top of my lists. A beautiful machine and fast as a rocket!

---

Another one that always seems to float to the top is Butch Hill's 1953 Studebaker beauty. I've seen it at a number of races and this time we were pitted right across from them. They work hard on their car and it shows in both the appearance and how well it runs.

---

David Shaffer's '48 Fiat Topolino "Second Chance" is another that I've seen at a number of races. Last year about this time it was flat black and not nearly as impressive looking as it is today. Now it is an absolutely gorgeous machine.

---

Since I was a kid I've always loved fuel altereds and David and Linda Hough's "Nanook" is a beauty. It's been around a long time and makes it to a lot of races each year. Their web site is at Nanook Motorsports.

---

I'm also a sucker for Funny Cars, and I've seen Bazz Young's "Down Under Thunder" several times. It is yet another beautiful hot rod and I'm already looking forward to running into it again.