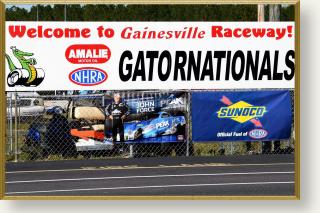 Myself and three of my friends spent four days at the NHRA Gator Nationals in Gainesville, FL in mid-March. A little cool in the mornings but warming up nicely in the afternoon. Much as one would expect in Florida in March! Four full days of sunshine, the smell of gasoline, methanol, and nitro methane, and the thunder of race cars. Personally I can't think of many ways to spend an early spring weekend.

Addendum – April 2, 2017 – We spent 4 days at the Gators and as I sit here watching a rerun of the race on TV I realize how much we missed. I saw Hector Arana, Jr. throw his temper tantrum on the starting line but had no idea why. I saw Troy Coughlin smack the wall with his top fuel car but didn't realize how hard he hit it. There is a lot to be said for both options. Being at a race is an immersive experience, one that cannot be simulated. It's a lot like the difference between standing in a rain storm and watching one on television, there is really no comparison. But at the same time the instant replays and interviews that are a part of a television broadcast make a world of difference. So in my opinion the best thing to do is both!
IN THE PITS …..


The pits were hopping all weekend. People shoulder to shoulder, golf carts and race cars trying to get through the throng without mashing someone, and folks like me with a camera glued to their face. I had a ball ;)

PEOPLE …..


All of the drivers and crews were roaming around throughout weekend but I was especially thrilled to see two of them. "Big Daddy" Don Garlits has been a fixture in drag racing for as long as I can remember. In fact probably the first name I heard pertaining to drag racing was his. Second was Chris Karamesines. Nicknamed "The Golden Greek" these days and just "The Greek" in his younger years he was born in 1931. If you do the quick math you'll see that he is 86 years old and still manhandling a Top Fuel dragster. It was truly an honor to see these two drag racing icons in person.



Todd Okuhara




Clay Millican




Jim Head




John Force




Matt Hagan




Leah Pritchett




Roy Johnson




Alexis DeJoria




Tony Schumacher




Ron Capps




Tommy Johnson, Jr.




Brian Corradi




Chris Karamesines




Robert Hight




"Big Daddy" Don Garlits




Angelle Sampey




Greg Anderson




Drew Skillman




Allen Johnson




Shane Gray




Chris McGaha




Jeg Coughlin, Jr.




One of the Lovely Traxxas Girls




The Other Lovely Traxxas Girl

ON THE TRACK …..


But we didn't come here to roam around the pits so that's enough fluff. Let's look at some stuff on the track for a while!

---

Thursday – March 16, 2017 – Sportsman Classes Qualifying

---

---

Friday – March 17, 2017 – Sportsman Classes Eliminations and Pro Classes Qualifiers 1 and 2

---

I apologize in advance for the so-called "Media" people in virtually every shot. There was no way to avoid them because they were shoulder to shoulder for the first part of the track. That's the reason there are so many shots right at launch, it was the only place I could see decently. These guys are quick and by the time they got down track to where we were they were frequently going faster than I could keep up with.




---


I went down to the far end of the track for a while just to feel the speed. I managed to get a couple of shots, some were easy since they were just coasting, but in most cases all I got was a blur. It is most assuredly a sensory overload when a funny car comes past at 300+ mph though.




---


It was getting later in the day, around 5:45, when the Top Fuel cars ran. Not night, not even dusk, but somewhat dim around the starting line which made the flames from the headers stand out beautifully. They aren't as prominent in the photographs as they were in real life though. Combined with the thunder of 11,000 horsepower they were a sight to behold.




---


And as is becoming rather popular they finished up the day with a pair of jet dragsters or, in this case, two pair of jet dragsters.

---

Saturday – March 18, 2017 – Pro Classes Qualifiers 3 and 4

---

---

Sunday – March 19, 2017 – Eliminations for all Pro Classes, Top Dragster, and Alcohol Funny Car

---

---

The traditional beginning to any sporting event in this country is the invocation, the national anthem, and the presentation of the American flag. In this case by a parajumper.