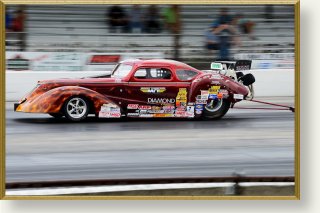 Today was supposed to be a Memorial Day "Twofer". I was going to Beech Bend in the morning and spend the day at the Jegs Sportsnationals and then go to the local round track in the evening for their monthly race. The Weather Gods had other ideas and the stockcar race got rained out and postponed until next weekend. Oh well, I didn't have anything going on next Saturday and had a great time at the Sportsnationals.

Even early in the day the weather was off and on. I hit some sprinkles going to Bowling Green and spent most of the morning looking at low, heavy gray clouds. There was one brief shower that stopped racing for about 30 minutes, but later the sun popped out for a little while. Going home the bottom fell out and by the time I stopped at home and grabbed a quick shower the round track race had been postponed.

But the subject here is drag racing so let's get to it. No "Pit Walk" today so all of the shots are on the track.
SUPER STOCK CLASS …..


SUPER GAS CLASS …..


SUPER COMP CLASS …..


STOCK CLASS …..


The Stock class guys always pull such cool wheelies ;) Some better than others but still fun to watch.
By the way, the white Firebird (third row, third photo) is Randi Lyn "Rockett" Shipp. If you follow NHRA Pro classes you might recognize the name since she is the fiance of Bo Butner who drives the #4 Pro Stock Camaro for Ken Black Racing.

SUPER STOCK AND GT CLASSES …..


TOP DRAGSTER CLASS …..


I must have missed an announcement or something. I specifically heard them call Top Dragster to the line however there are some photographs below that aren't TD cars. Not sure what other class(es) are there, but there is something else ;)

TOP SPORTSMAN CLASS …..


Top Sportsman is one of my favorite classes. I enjoy them all but for some reason I prefer Funny Car, ProMod, and Top sportsman over all the others. As a kid I loved the Fuel Altered class, and still really like the altereds so prevalent in NDRL, but if I had to choose a class to watch race it would be one of those three.

IN CLOSING …..


It was good to see some of the NDRL guys from last year out there; Gordon Horn and his #305E Corvette and Larry Harlen and his #306 Anglia specifically.

And while my "Farthest Travelled" award is far from scientific it would probably go to Joe Roubicek and his #7980 '68 Camaro in Top Sportsman since he came from Camarillo, CA to get here. Ironically I recognized his car from having seen it in Phoenix last year.

A fun day. Strange weather that was challenging for a photographer since the light was constantly changing and because I always shoot races in manual mode so the color of the car won't affect the exposure as it would if I were using an automatic mode. The Hot Rod Reunion is in three of weeks and I'm already looking forward to that one.