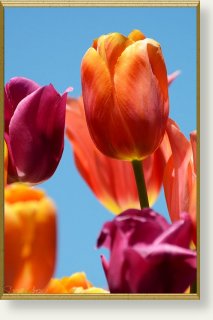 Cheekwood Botanical Garden was once the home of Leslie and Mabel Cheek. They, along with Mr. Cheek's father, made a name for themselves by developing a special blend of coffee that became known as Maxwell House Coffee. Anyone who drinks coffee will certainly be familiar with that brand.

The Cheeks moved onto the estate in 1933. In 1943 Mrs. Cheek deeded the property to her daughter, and in the 1950's the 55 acre estate was offered for use as a botanical garden and art museum. The Exchange Club of Nashville, the Horticultural Society of Middle Tennessee, the Nashville Museum of Art and other civic organizations donated time and resources, as well as permanent exhibits of art, and Cheekwood Botanical Gardens opened to the public in 1960.

---

April 11, 2015 – Cheekwood In Bloom!

Another year, another visit to Cheekwood to see the tulips. I drove over there last weekend but couldn't even get through the gate. Apparently, since it was Easter weekend, they were having some special event and the place was packed! I made it this week though, and the flowers were beautiful. I almost left it too late though. Some of the photographs show that the blooms are starting to deteriorate somewhat so I don't think they have a lot of time left.


---

April 12, 2014 – Cheekwood In Bloom!

The tulips were most assuredly in bloom this weekend. 78° and abundant sunshine certainly mkes a difference. Shooting photographs of beautiful flowers on a gorgeous spring morning is a lot like eating popcorn in that once one starts it is hard to stop so there are quite a few photographs ;)


---

March 22, 2014 – Cheekwood In Bloom!

Cheekwood is once again running the "Cheekwood In Bloom" exhibit and I decided to visit it today. To my chagrin I forgot to keep in mind that it is still March in Tennessee and there was very little in bloom. I saw one, and only one, tulip out of the ground. The rest were still safely cocooned in the dirt. Oh well, I'll try again in a few weeks.


---

April 20, 2013 – Cheekwood In Bloom!

Cheekwood has an exhibit of Tulips and other blooming spring plants running through April 30th. I weny by there today to get a few spring foliage shots and once I started it was hard to stop. Yesterday's clouds gave way to brilliant blue skies overnight and the colors were absolutely fabulous.


Cheekwood is also preparing for an event entitled "Light – Bruce Munro at Cheekwood" which requires the placement of thousands of small light globes and other lighting fixtures among the foliage and trees of the site. Cheekwood plans to remain open during extended nightime hours during the event the event so that they will be on display at night. An event I'm really looking forward to! They are setting it up now and a few photos showing a few (literally!) of the globes are below.

---

October 28, 2012 – Scarecrows and Trains!

Cheekwood has scarecrows on display to celebrate the Halloween season that I had to go see. They also had some of the trains from last year's "Trains in G" on display once again and I wanted to see them as well. Yesterday was a dismal day when heavy clouds left over from Friday night's rain so I decided to wait until Snuday and see if things improved. It was still cloudy this morning but about mid-morning the clouds blew away leaving crystal clear blue skies behind and crisp fall temperatures. In other words a perfect day for looking at scarecrows and trains!

I find some of the scarecrows a bit confusing, but I'm sure they make sense to the people who put them together. I won't pass judgement on them and simply post them here for your enjoyment and contemplation ;)

There were supposed to be "Over 40″, and while I didn't count them I think I got them all.





---


And here are a few of the trains. I don't pretend to be knowledgeable on trains, but every tine a child walked up they screamed "There's Thomas!" when the little blue one came by.

There are some more train shots from April 9, 2011 in the next section.




---



And this one is here simply because I really like it. I don't know who the young girl is but she absolutely made this photograph!

---

April 9, 2011 – TRAINS IN "G"

There is a display of "G"-scale trains at Cheekwood from April 9 through December 31. I wanted to go by there before the weather had a chance to work on the trains and buildings, so I went today, the day it opened.

The exhibit is right beside the Visitor Service Center and consists of about a half dozen trains running on about 1,000′ of track through a woodland setting. There are models of some well-known buildings in Tennessee, and all in all it is very well done.

I didn't count exactly how many trains are running around the area, but there are several. I suspect that they will change during the event so what I saw today will probably be different the next time I go.
Perhaps the most enjoyable part of the exhibit was watching the kids. The expressions on their faces are just priceless.

---

November 7, 2010 – CHIHULLY AT CHEEKWOOD

I cannot believe that it has already been nearly 6 months since I watched the crew set up the Chihuly exhibit at Cheekwood, but it apparently has been. Today was the last day of the exhibit, and it was held over a week from its original ending date of October 31.

I went by today to hoping to get some shots of the exhibits with autumn leaves as a background but it didn't happen. Either I missed the opportunity or the leaves there haven't changed yet but everything was still pretty much the same as it was in September when I was last there. Regardless, here is a last handful of photographs before they start dismantling it.

---

September 5, 2010 – CHIHULLY AT CHEEKWOOD

I haven't been back to Cheekwood since July because it has been so horrendously hot around here all summer. It finally started cooling off some a couple of weeks ago, and today's high was only supposed to be 80° as opposed to the 101° we had recently. 101° may not sound high but coupled with the humidity that is so common around here it equates to heat index values of 115° to 120°. That is hot in anyone's book!

It was really nice today and I took advantage of the nice weather to visit Cheekwood again. We haven't seen brilliant blue skies like that all summer! I'm ready for some cool, crisp fall weather.

---

July 2, 2010 – CHIHULLY AT CHEEKWOOD

Once again it was hot, although not nearly as hot as the past few weekends, but it was a beautiful clear summer night and I wanted to try my luck with the Chihuly exhibits I've been having trouble with. Still not exactly what I want but I'm getting closer.

---

June 11, 2010 – CHIHULLY AT CHEEKWOOD

Another hot one tonight. I had thought that the heat and humidity might thin out the crowd some but that didn't pan out too well for me. The place was packed. All of the normal parking lots were full and there were people everywhere. It was worth it though.

---

June 4, 2010 – CHIHULLY AT CHEEKWOOD

Summer has well and truly made its way to Tennessee. I visited Cheekwood again tonight, and got there before sunset so I could get some photographs of a few of the exhibits I hadn't seen before. It was HOT! By the time I got home I was as wet as I was last weekend when it rained. It was worth it though!

---

May 28, 2010 – CHIHULLY AT CHEEKWOOD

Through October 31 Cheekwood will be open on Thursday and Friday nights. My wife and I went by there this evening right at dusk but I was in a REAL hurry to get my photographs. We were in between rain showers and it was fixing to rain again. It did to, and we got soaked! I did manage to get a few photographs before the bottom fell out though. I'll get some that are better when I'm not in such a tearing hurry to get something and get gone.

---

May 16, 2010 – CHIHULLY AT CHEEKWOOD

I went to Cheekwood today in between rain showers to see how much the Chihuly exhibit has changed since Thursday and they have gotten a great deal done. The Saffron Tower is complete and was actually illuminated while I was there. The lights don't show up well in the photograph but they did show up rather well on a cloudy afternoon.

They have installed a number of these "Reeds", I think they are called, in the gardens beside the botanical hall. I was hoping they would add some in places because I really enjoy them. At the exhibit in Phoenix they had them in several different colors and they really added to the color in the exhibits. They were wet from the recent rain and I thought the water droplets on the tips were intesting.

They have also finished the water feature display in the first pond in the water garden. The water was smooth as glass and made a perfect reflection of the boat floating above.
They have also finished the water feature display in the first pond in the water garden. The water was smooth as glass and made a perfect reflection of the boat floating above.

There is a second boat going into the pond below. Ever wondered how you put a boat full of glass on a pond? Very simple, you just don your waders and head out into the water.

---

When I was at Cheekwood on Thursday I couldn't get very close to the glass balls in the Japanese garden because there were workers on the viewing pavillion. Not so today and I managed to get a few decent photographs of them. I still don't know whether there will be water in the area or not, I guess I'll just have to wait a couple of weeks to see.
The rain that had been threatning returned once again so I reluctantly headed back home. I didn't get to look at the entire site so there are probably displays that I haven't seen. Hopefully I'll be able to get by there one afternoon this week and see what else has changed.

---

May 13, 2010 – CHIHULLY AT CHEEKWOOD

I managed to get by Cheekwood today and see the staff assembling some of the exhibits, a truly amazing sight considering the complexity and fragility of the exhibits. They are, after all, hand-blown glass.

The piece below is entitled the "Saffron Tower" or "Neon Tower". It stands about 30 feet high and is lighted with many (I have no idea how many!) neon lights. The technician in the second row of photographs can be seen connecting electrical cables to each of the tubes. Yes, it appears that every single tube on the exibit is a neon light tube. As it is still under construction I have not yet seen it lit but I have seen one similar. A photograph of the exhibit that was in Phoenix is at This Link.

The exhibit is obviously not one large piece that is shipped to the site. Each element of the exhibit is hand-blown glass, and each element is assembled on site. I talked with one of the staff members and she told me that even though they ship their exhibits to international locations they seldom have anything get broken during shipping. Each section is numbered, photographed, and individually packed. The packing boxes each have more than one piece of glass in them but each box has photographs of the contents fastened on the end. It is an amazing undertaking to get them to the site, unpacked, and assembled without breaking anything.


---


This piece is called "The Sun" and it is one that I saw on display in Phoenix last year. It is comprised of over 1,300 separate sections of glass that are assembled on site to create the exhibit.

---


The exhibits below are called "Bamboo Reeds". They are installed in Cheekwood's Japanese Garden among tall shoots of natural bamboo.

---


This one is called "The Moon" and it was also on display at the Desert Botanical Gardens in Phoenix last year.

---


I'm not sure what these are named. They are round glass balls and I think the staff member I talked with said that they would be part of a water feature. I could be wrong though, I guess I'll find out for sure in a couple of weeks.

---


And finally just a few shots from around the magnificent gardens.

---

May 9, 2010 – CHIHULLY AT CHEEKWOOD

From May 25 until October 31 there will be an exhibit of Dale Chihuly's glass artwork in place. I saw one of his exhibits in Phoenix, AZ last year (photos are Here) and if this one is close to being similar it will be well worth seeing. I sent an email to Cheekwood in January when I heard about the exhibit asking whether it would be possible to visit their facility while the Chihuly staff was setting up the exhibit. After seeing the exhibit in Phoenix I could not visualize how they could move them around the country and set them up without completely destroying them. They are, after all, just hand-blown glass. I received a response to my email informing me that I was certainly welcome to visit and see the setup. It was scheduled to start today so I headed that way.

A beautiful, cloudless day with temperatures in the 60's was in the making, and after the disastrous floods of last weekend the weather was certainly welcome. The people at Cheekwood that I talked with told me that the Chihuly staff was supposed to be there today beginning their setup but nobody was exactly sure where they would be. I just wandered around the grounds taking photographs, and even though I never found the setup area I had a great time taking photographs of the facility.

It is a beautiful facility and I'm sure I only scratched the surface today. Photographs of today's wanderings are included below.