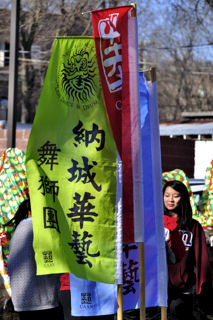 The Chinese Arts Alliance of Nashville performed a Dragon Dance this morning in celebration of Chinese New Year. 2012 is the Year of the Dragon on the Chinese calendar.

They could not have picked a more perfect January morning for the event. A few drifting clouds, clear blue skies, and moderate temperatures in the mid 40's. The brilliant colors of the costumes and dragons provided a gorgeous splash of color to the event.

My thanks to CAAN for a wonderful event!
---